Online Lessons for Children
Are you looking for 1-to-1 online lessons for children?
Are you looking for online lessons for your child?
Using secure technology, you can now access personalised, bespoke teaching for your child, from your home.
The virtual lesson we had with Nicola was great today and ran very much like our standard tutoring sessions. The upfront communication was very clear and therefore it was easy to ensure we had all the right technology set up and the relevant things printed out and to hand. Using Zoom as the platform worked very well and my son especially liked the whiteboard element and the ease with which they were able to communicate. We look forward to continuing our lessons in this way for the time being until we are able to meet in person again. Many thanks for all the upfront investment in getting this set up so well.
"I find the lessons nice, fun, interesting, calm."
We have been pleased with the online sessions so far and the fact that our son can continue his learning in a structured session.
Thank you so much for your support and guidance during the lesson. My daughter found the time very beneficial and the resources extremely helpful. She has learned new methods and approaches to areas of the subject which have enabled her to gain a greater understanding of them.
Online lessons for children from year 4
I offer 1-to-1 online lessons for children from year 4 upwards, covering Maths and 11+. More details on the specifics of what I offer can be found on my page for Children.
What can you offer my child with online lessons?
For each lesson I provide the resources you need – emailed in advance.
The one-hour lesson is conducted online (using "free to access" software). I present materials on screen, and guide your child through their work.
Class and homework are sent to me electronically (again, with free software).
All work is marked and reviewed (as necessary) in subsequent lessons. Older children can often mark their own work, and sometimes send over school work that they want help with.
As these lessons are bespoke, work will be set each week based on your child's progress.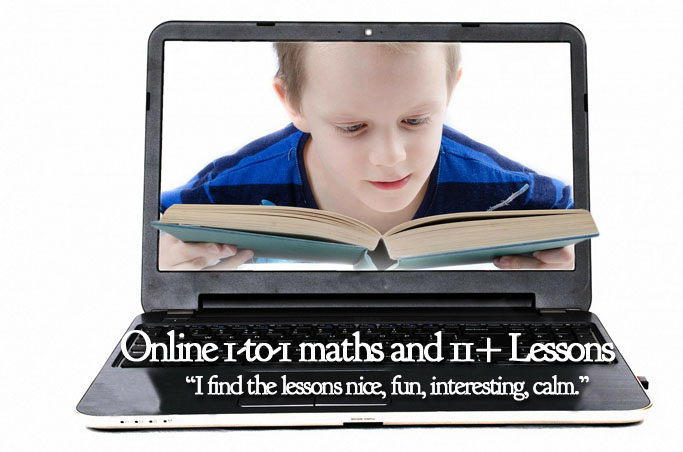 How can I access online lessons for my child?
To access online lessons with me you will need the following at home:
– a computer, either a laptop (preferable) or a tablet
– either a built-in camera / microphone for the computer, or separate hardware that you plug in
– a printer (nothing fancy, black and white is fine)
– a smartphone (iPhone or Android) OR a tablet with a camera
Accessing Online Lessons for Children
I have produced a couple of quick guides for getting online – provided here for you to download for FREE.
Quick guide on how to join a Zoom meeting for online lessons
Quick guide on how to scan in and email class or homework for online lessons
Want to find out more about online lessons for your child?
I have plenty of opportunity for daytime online lessons – please contact me today to arrange a day and time to suit or find out more.
About Me
My name is Nicola Bhalerao and I am a private tutor based in Warwick. Since 2013, I have provided one-to-one tuition for children and adults. I specialise in maths tutoring, but cater for different requests, ranging from 11+ to various computing skills, including website training.
My background is in computing, with a Computer Science degree from Warwick University. I have worked many years as a programmer, latterly in the games industry. Both my sons were tutored by me for the 11+ (they went to a local grammar school). I received training for teaching secondary school maths and I am fully CRB checked.
I am a WordPress expert, having spent many years creating numerous websites with my other business, Smiling Panda Web Design. Although I no longer actively work on websites for others, I offer help with understanding / updating / creating your own WordPress website.
Read here for more information on tuition for your child or tuition for yourself or another adult.